Wetall offers you a selection of the tallest actors in the history of cinema, in Hollywood or the world
Only those taller than 7 feet will be counted, so Thor Björnsson, the mountain from Game of Thrones, will not be included with his 6'9.
Let's start with a special selection of some favorites. We will continue with the top 10 and conclude with an exhaustive infographic including all the giants that cinema has known this century.
Carel Struycken, 2m13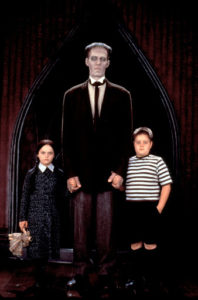 Carel has had a very successful acting career with notable roles in Twin Peaks and The Adams Family!
André The Giant, 7'/2m13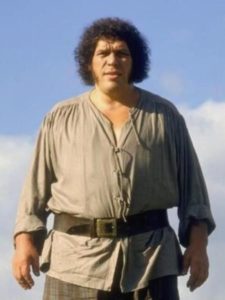 André is not to be introduced anymore, we have already done it at length in the article who was André the giant. André, who is basically a legendary wrestler of the ex-WWF, has had some nice roles in movies. The two most important ones were in Conan the Destroyer, with Arnold Schwarzenegger and Wilt Chamberlain. He plays a monster and is therefore hidden under his costume. The other role that stuck with him and left a strong image of the gentle giant was the one in Princess Bride.
Wilt Chamberlain, 7'1/2m16
Wilt the Stilt, an absolute legend in the NBA and the only player to score 100 points in a game, was given a magnificent role alongside Arnold Schwarzenegger and Andre the Giant in Conan the Destroyer. His superb plastic was beautifully showcased and the pairing he forms with Arnold is explosive and provides some great scenes in the film.
Richard Kiel, 7'2/2m18
Richard has one of the most successful film careers of the giants listed. He starred in 40 films, most notably as the Shark in Moonraker and The Spy Who Loved Me.
Peter Mayhew, 7'2/2m18
Another legendary giant of the cinema ! Peter Mayhew played the role of Chewbacca in Star Wars. He also appeared in a dozen of other films.
Kareem Abdul Jabbar, 7'2/2m18
Like Wilt Chamberlain, Kareem Abdul Jabbar had a prolific career in the NBA and still holds the record for most points scored in a career. His inclusion in this list is due to his roles in films that stand out for different reasons. The first is Bruce Lee's masterpiece : Game of Death. In which the two protagonists clash in a mythical fight that remains in the pantheon of martial arts film fighting. Kareem was also a student of Bruce Lee with whom he practiced Jeet Kune Do. The other film in a completely different register that left its mark in the humorous sense of the term: Airplane!, in which he played the role of a plane pilot.
Kevin Peter Hall, 7'3/2m20
Kevin Peter Hall made his name in the role of Predator. He played the costumed monster and faced a determined Arnold Schwarzenegger. He also played in other minor films.
Ed Wolff, 7'4/2m23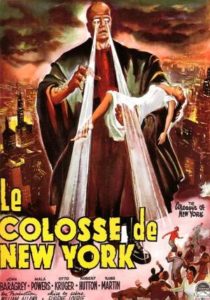 Little of you knows about him today, Ed Wolf had a great acting career from the 1930s to the 1950s. He appeared in many films.
Matthew Mc Grorry, 7'6/2m29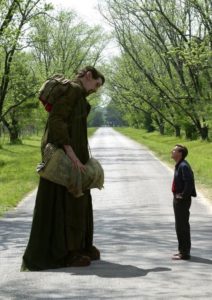 Matthew Mc Grorry is best known for his important role in Big Fish. He also made numerous appearances, notably in Men in Black II. He had the particularity of wearing a size 62. He died at the age of 37 while filming a biopic on Andre the Giant…
Christopher Greener, 7'62m29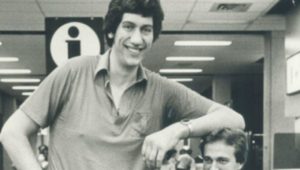 Christopher Greener was for a long time the tallest Briton. He also played basketball but had a very decent acting career. He played in many memorable films. Amongst these was the famous Elephant Man.
Lock Martin, 7'7/2m31
A great actor of the early post-war period, he appeared in a dozen of films in a variety of styles. Fans of old films will find here The Snow Creature in its entirety:
Georges Muresan, 7'7/2m31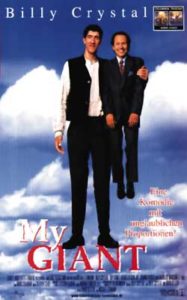 The tallest player to have played in the NBA, the Romanian-born player belongs here for his film My Giant, which revealed in an interesting way the daily life of the tallest.
Who are the ten tallest actors in cinema?
The 10 tallest actors in cinema, even including those who have only made one film, are:
Jack Ealre, 2m59/8'6
Julius Koch, 2m46/8'1
Suleiman Ali Nashnush, 2m45/8'1
Felippe Birriel, 2m41/7'11
Erhard Weller, 2m40/7'11
Alexander Sizonenko, 2m39/7'10
Ted Evans, 2m35/7'9
Johann Petursson, 2m34/7'8
Eddie Carmel, 2m32/7'7
Daniel Gilchrist, 2m31/7'7
We hope you enjoyed this original article. Find more videos about the subject in the Wetall's giants videos section.
Feel free to find your favorites giants on our partners websites Amazon and Netflix 🙂
Thanks in advance to everyone who will subscribe to the anti-spam guaranteed newsletter and to those who will share the article on social networks.
See you soon!
Related links: